Thursday, December 14, 2006


world-renowned phonograph collector on a news broadcast
Posted by

silentbacchus
at 10:14 AM
No comments:



found this on youtube and i should really film my piano...it's a good idea!
Posted by

silentbacchus
at 10:01 AM
No comments:

Thursday, December 7, 2006
I almost forgot to update about my trip to Houston on Saturday. We left very early in the morning so that we could make it to Spring at 10am to meet with Kurt Nauck. His facility is in a brick warehouse type building that doesn't even hint at its marvelous contents!He's such a pleasant person and took time to answer all of our questions and crank up machines and even look at my BK. We bought some parts from him and headed into Houston. First stop was to check out the machine off of Yale street that randy had spotted. We walk in and a guy has it on the counter buying it!!! It appeared to be a peacock horn, HMV tonearm and horn support, some sort of German case and a pillar and plate motor. It had obviously been a cobbled together frankenstein of a piece and I'm kind of glad i didn't buy it i guess. We then went through a couple of other stores in the heights and I bought some 1920's British 78's. We had a quick lunch at mcdonalds and then headed for the museums. We visited the contemporary and saw the Pippilotti Rist show and visited with Marcus over there. He told us how Trav and his travelogue show project was going. We then toured the MFAH and saw some interresting shows there and checked out the Damien Hirst installation piece they just bought. I kind of wish they had bought one of those segmented animals instead of this skeleton thing they bought. It was in a really crappy place downstairs on the way to the neon tunnel that leads to the new wing. We then headed back in time to have dinner at 7pm with Erica McCreedy at Tony's Pizza. A good day indeed.
Posted by

silentbacchus
at 10:52 AM
No comments:

Today is Friday and I wanted to show my new victor exhibition reproducer.
Randy Guillory did an excellent job rebuilding it!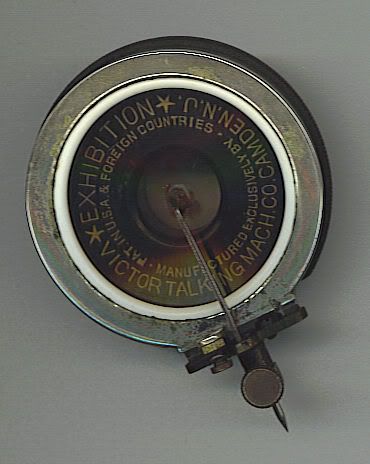 I can't wait to get home and try it out on something hot like
"Dusky Stevedore" or "Spell of the Blues"
Posted by

silentbacchus
at 10:48 AM
No comments: